More than 90,000 primarily small and medium-sized enterprises appreciate Thuringia as a business, technology and innovation location. Deeply rooted in the state and its people, many of them demonstrate courage and turn their business idea into their company's success. Since then, they have conquered countless markets from Thuringia and their products are in demand and successful worldwide. In the following video clips, some of them show how the state of Thuringia and LEG have supported them.
Lift Air, from the traditional LINDIG Group, is one of the pioneers for efficient and emission-free aviation of tomorrow. The company was able to set the first milestones with the first battery-powered electric flight of the ultralight series Flight Design. In the future, the company aims to usher in the hydrogen era with its innovative flying wing design. With further forward-looking concepts from the eVTOL air cab division, the company aims to revolutionize the way we think about mobility.
The Mehnert Lab has set itself the task of developing an open innovation platform for industrial robotics and automation. The special machine construction company Mehnert focuses on training in robotics as well as testing and further developing robotics from different manufacturers. This allows companies to test automation solutions and have personnel certified without disrupting the operational process at a plant in their own production. Partners in the Lab are universities, research institutes, various industrial companies ,with manufacturing technologies that have optimization potential in the field of robotics, as well as software developers and craftsmen. The Lab also serves as a conference and event location.
Discover the innovative power in the center of Germany! We show you what life science companies from Thuringia have to offer. The best example: GBneuhaus! Under the motto "Yes, we coat!" the company offers functional coatings, including antimicrobial ones, that effectively protect against viruses, bacteria and other dangerous pathogens. We have supported GBneuhaus in its expansion to India, among other things.
A lab that fits on a microchip? A Thuringian company makes it possible! The microfluidic chips from the Jena-based technology company microfluidic ChipShop GmbH are used for the diagnostics of blood, urine and other liquids. The company particularly appreciates short distances and the existing value chains in Thuringia.
Since 2017, FRAMO has been converting light and heavy diesel trucks into electrified eTrucks. As a medium-sized company from Thuringia with its own battery and software development, FRAMO has made an international name for itself with individual solutions based on customer requirements. The portfolio of the company from Löbichau in the Altenburg region ranges from purely electric box trucks, semitrailer tractors, and municipal waste collection trucks to concrete mixers and e-excavators.
Since the market launch of the world's first shopping robot, the mobile robot platforms of MetraLabs GmbH have become an indispensable part of retail stores in many countries. The company, founded in Ilmenau in 2001, develops and produces automated solutions for retail, libraries, medical applications, industry and research. MetraLab's RFID robots help you to read out and process inventory data sets in no time, automate internal production processes, guide streams of visitors, eliminate germs and viruses in the life sciences or solve future problems in research.
One of the emerging startups from Thuringia offers excellent service for patients in need of care! As a web-based platform, Pflegeplatzmanger is the digital solution for networking hospitals, rehabilitation clinics as well as outpatient and inpatient facilities. The patient receives a precisely fitting, transparent and structured overview of the available care capacities. A tool to relieve the burden on care facilities and support those affected, for a better quality of life.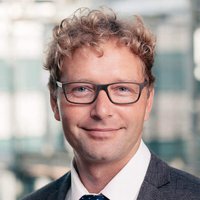 Axel Wipprecht

Director Life Sciences/Food Industry/Environmental Technologies